GREG RAGLAND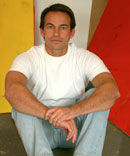 Park City artist has a lot on his palette
From public art to theatre posters, Ragland enjoys paints and sculpture
Scott Iwasaki, The Park Record • 06/13/2012
Park City-based visual artist Greg Ragland is a popular man. Not only does the painter and sculptor show his works at J GO Gallery and other galleries in California, Georgia and Colorado, but he has new pieces that have been installed and will be installed in downtown Salt Lake City.
He is also the poster artist for Plan-B Theatre Company, which is currently presenting "Hedwig and the Angry Inch" at the Egyptian Theatre through Sunday, June 17.
His latest soon-to-be public art is called "Feathers in the Wind," which will be installed this weekend at Abravanel Hall. The work was commissioned by Salt Lake City for the Flying Objects 3.0 public art program, Ragland said. "The work is a kinetic sculpture that features three large feathers, measuring seven-and-a-half feet by seven-and-a-half feet, which are welded and intertwined together," he said. "They are painted bright colors with automotive paint and when the wind blows, they will spin."
His next big project will be installed next year at Salt Lake's new public safety building that will be located near 500 South and 300 East. "I'm getting ready to make two large bronze sculptured hands that face upwards on the ground, which is sign-language for the word 'serve,'" Ragland said. "Each hand will be 10 feet long by five-and-a-half feet wide, and people will be able to sit in them. It will take me the whole winter to do them." Ragland has been interested in visual arts since he was a child. "My skill set seems to be working with my hands and art was a way to express myself," he said. "I've always gravitated to working with working with tools for sculptures or painting and drawing. It was something that intrigued me from when I was six or seven and I haven't stopped yet."
Ragland's family wanted him to be architect and he enrolled in Arizona State University to study architecture. "I really didn't have a career path set, and I had originally wanted to pursue art, but my parents pushed me into architecture, because it seemed like a career where I could actually make a living," he said. "I also had an uncle who was an architect and he encouraged me to pursue architecture as a career as well." However, after taking some college classes, he decided art was the way to go. "Since art was something I had done all my life, it was like a comfort zone for me," he said. "It defined who I was as a person. I felt good doing it and I got some accolades for it."
Unlike some artists, Ragland enjoys working in both sculpting and painting. "I would hate to give up any one of them," he said. "Painting, for me, is where I feel most comfortable. The thing about painting is that there is an interesting mix for me about what I paint. I like painting some things that are abstract, but I also like to show I can render. So, I combine those things in my works." Ragland likes working with acrylics. "I paint my small pieces on panel and the larger ones are on canvas," he said. "Acrylics seem to get a bad rap sometimes because some people think of them as cheap and cheesy because of the way they are applied. My goal is to paint with them as if they were oils."
Ragland enjoys sculpting because it not only involves working with his hands, but his whole physical being. "I move things around, especially the public art pieces, because they are so large," he said. "I love the idea of three-dimensional work, because it's interactive and you can move around it. That means the problems that come up have to be solved on all sides, instead of just on a two-dimensional surface. "Sculpture pushes me out of my comfort zone and I love that feeling," he said. "That's why I like to experiment with different media and explore myself."
Regardless of what media he uses, Ragland always starts off a project with a drawing. "That gives me a vision of what I want the project to look like," he said. "But if it's a sculpture, once it's scaled up, it becomes a whole new different ballgame, because everything scales up differently." Throughout the years, Ragland has developed a method that has helped him keep things in perspective. "I usually try to plan enough time on the project so I can meditate on things before I go to sleep," he said. "After a week or so, especially with big pieces, I know what I want and the idea and imagery appears to me while I sleep. When I wake up, I have a clear vision for solving each of the individual problems of the sculpture." Ragland's sculptures are made of cast resin, bronze and mixed media.
"The public art sculpture materials are determined by the location where they will be displayed," he said. "I also weld and I do steel sculptures and have some pieces that are fabricated aluminum."
When creating posters and scenery for Plan B Theatre Company, Ragland relies on his friendship with the company's director Jerry Rapier. "I've known director Jerry Rapier for years, and I have been doing posters for his plays since 2001," Ragland said. "He's a fabulous director and has a wonderful ability to see how a show comes together." Ragland gets scripts from Rapier and reads them to get ideas. "He then gives me free rein of how I can illustrate the story without giving anything away," Ragland said. "Jerry may give me some suggestions if he feels he needs to, but that's still pretty loose. My approach is that I want to create a little mystery with a striking visual."
Greg Ragland's art can be seen during Plan B Theatre's production of "Hedwig and the Angry Inch" that runs June 14, 15 and 16, 8 p.m. and June 17, 6 p.m., at the Egyptian Theatre, 328 Main St. Tickets range from $20 to $30. For more information and tickets, visit www.parkcityshows.com.
Local artist shares passion for public art
Parkite Greg Ragland unveils aquatic art; vegetable sculptures
Alisha Self , Of the Record staff • 07/06/2010
Greg Ragland cringes a little when he thinks about his sculptures being pounded by hail, bumped by a wheelbarrow or clambered over by hordes of rowdy children. When it comes to public art, though, that's the nature of the beast. "I think that there's a letting-go process," he says. "You put them in their location and you have to trust in the community to embrace them and nurture them. It's difficult, but it's kind of the final product that the piece turns into. It becomes part of a community and the things that happen to it show a sense of love and commitment to the piece." Ragland, a Park City resident whose work is represented by Phoenix Gallery, has completed three major public art projects in the past 14 months: "3 Hummingbirds in Blue," a 20-foot steel and fiberglass sculpture installed near Hotel Monaco in downtown Salt Lake City; a series of sculptures for the People's Portable Garden at 877 South 200 West; and, most recently, a huge acrylic painting that graces the entryway of the Park City Aquatic Center. "I love public art because I think it really brings people together," the artist says. "It becomes everyone's art. As time goes on, people start nurturing that sculpture or piece of art and take ownership of it. It starts creating a sense of community and sparks dialogue between people that might not ever speak." Ragland's project for the Aquatic Center was commissioned by the Park City School District to enhance the experience of patrons of all ages. The 6-by-3-foot relief, which was installed last month, features a swimmer mid-butterfly stroke with a few goldfish splashing out of the water. "The requirements for the project were interesting because it's in a wet area and they needed a material that would hold up under those kind of circumstances," Ragland explains. He first created the image on a smaller scale, then he scanned and printed it on a PVC product designed to withstand moisture. For the People's Portable Garden, Ragland grappled with a different set of challenges. He wanted to capture the essence of a community garden with pieces strong enough to endure the elements as well as human-induced wear and tear. After all, the three sculptures a set of four human-sized bell pepper slices, a peapod bench and toothpick-like pillars stacked with cherry tomatoes are too irresistible not to touch. Ragland created the larger-than-life pieces out of cast, fabricated and painted aluminum. The garden is a joint project of the Redevelopment Agency of Salt Lake City and Wasatch Community Gardens that allows people to grow their own vegetables while learning about gardening and nutrition. In return, they are expected to help with the upkeep and maintenance. "It allows neighbors that might never know each other to come together, and I think public art does the same thing," Ragland says. He wanted to reflect the cooperative element of the garden in his art. The bell pepper slices called "No Salt Just Pepper" lean on each other to emulate how the community depends on the garden and vice versa. "I also wanted to make sure that the garden is bright and cheery and fun whenever it's in the non-growing season," he says. Ragland has received his public art commissions through submitting his qualifications and ideas to various community groups and committees. He typically shows his work paintings and sculptures in a variety of media in galleries and exhibitions, but he is drawn to the communal aspects of public art. "I really enjoy the public aspect because it really gives people an opportunity to experience art without going to a gallery or museum," he says. It also presents unique challenges that he doesn't encounter when working on a smaller scale. "It's quite a process doing public art," he says. "You really have to figure out how something will permanently go together and how it will stay together through things that are unexpected. There are a lot of things that complicate the creative process in a positive way and force the artist to think about all aspects at once." Any difficulties are worth the outcome, though, he adds. "When you start doing pieces that are larger than life, it has much more impact than smaller or life-size pieces." Ragland has submitted proposals for several other public art projects and looks forward to his next endeavor. Meanwhile, he continues to paint and create pieces that he doesn't have to fret about quite as much.
54 Finch Lane Newsletter • Summer 2010
Peoples Portable Garden, Salt Lake City
The Redevelopment Agency of Salt Lake City and Wasatch Community Gardens teamed up last year to create a temporary community garden: the People's Portable Garden at 877 South 200 West. Park City artist Greg Ragland was commissioned by the Salt Lake Art Design Board to enhance the garden and bring a sense of place and community to this once vacant lot through his artwork. Ragland's cast aluminum sculptures: No Salt Just Pepper, a series of giant, vividly colored bell peppers slices; Starters, bright cherry tomatoes on fancy six-foot tall toothpicks; and functional seating called Three Peas in a Pod were installed in the garden in early May. Of his sculptures, Ragland said, "the scale is intended to excite the viewer, with perspectives from both in and out of the garden, bringing color and life to the garden even in the non-growing season." Ashlie Taylor, RDA Project Area Specialist noted, "The RDA is very excited to see Greg Ragland's artwork installed in the West Temple Gateway Project Area. The work complements the People's Portable Garden wonderfully and reinforces the neighborhood's desire to grow nutritious food locally and build a stronger community."
Park Record Interview by Amie Tullius • 3.17.2010
"Environments" Opening March 19 at Phoenix Gallery
Greg Ragland's studio is bathed in afternoon sunlight and birds. Two walls are lined with his newest paintings, bright squares of color graced with chickadees, geese, quail, a spoonbill, and hummingbirds. Across the room is a large computer monitor where he brings up images of the sculptures he's working on to install in April at the People's Portable Garden in Salt Lake, the result of a public art commission he was recently awarded. He pauses for a moment from his busy schedule and talks about the commission, and the upcoming show at Phoenix Gallery, which will feature the newest paintings in his wildlife series.
How do you spend your days? I wake up every day and I can hardly wait to get to work. I'm either in this room [the studio] or in the shop—I have an oversized shop in the garage—and then lately I'm down at the foundry.
Congratulations on the public art commission. This is an exciting new development in your work. When I was in grad school, I did mostly sculpture. Painting was my comfort zone. Sculpture I have to think about a bit more, in fact, that's where my work is headed. The garden is about bringing people together. So one of the projects is called "No Salt, Just Peppers." [It's four human-sized bell pepper slices in red, yellow, green, and orange.] The peppers are leaning on each other, which works for the metaphor of the garden, and people depending on each other. There's also "Three Peas in a Pod," which is a peapod bench, and toothpicks with cherry tomatoes called "Starters," which will be installed at the entry to the garden. I'm loving public art because it's for everyone, everyone can see it and enjoy it.
These new paintings are gorgeous. How did the wildlife series initially start? Before the wildlife series I was doing figurative work. There were people flying and others in contained spaces; and at a certain point the work started to become very esoteric and personal. It was getting to the point where I'd solved all the problems I'd created for that body of work, so I decided I was going to stop painting for awhile. I ended up going for three or four months—which is the longest I'd gone without painting since I was 14. Then one day I was sitting in the yard, and this bird was flying over. And it was beautiful, but I realized the bird wasn't the most important thing—the background and the bird were in a competition for attention. I'm a huge fan of the color painters, so I decided to take the abstract background, and then shove in this whole other idea: the realistic bird. I wanted to take two completely different philosophies, and make them work together.
Compositionally, the birds give the paintings the freedom to not be grounded. The composition and color are really what I'm interested in. The backgrounds can become anything. I'm falling in love again with just throwing paint, and then reacting to where the paint takes me, to controlling the composition, but not controlling it. The backgrounds take 9/10ths of the time, then I add in the birds last—the bird is just like a little flavor crystal. And it either screws the painting up, or it makes the whole thing.
Where are you headed with this series? It's hard to say. I'm still enjoying the process of putting something realistic in there, but I love the backgrounds by themselves. The birds are starting to become not as important as what's going on in the background. I have a few canvasses that probably won't be in the show, they don't have birds, but they feel done. I'm just sitting on them, living with them for a while. I haven't completely solved all the problems I wanted to with this series, though.
When you speak about problems, are these something that you have in your mind before you begin, or do you discover them as you go?
The problems for me are compositions, textures that I can't physically paint; they have to be totally spontaneous. Although you can't have too many of those, though, the spontaneous textures. Where the artist comes in is in knowing what to save and what to get rid of. How minimal can it be, and how aggressive can you take it. And letting the paint do its own thing, but also controlling that.
Composition and color are key. I want to control where the viewer exits the painting—or if they stay inside it, I want to predict how they're viewing the painting. I want to see if I can control the gaze of the viewer. I started the series as squares, because squares, historically, are an absolute no-no, because there's nothing to solve. The shape is so stable, it doesn't create an interesting problem, and so you have to create the problem. I took that on as a challenge when I started the series, though I've since done a few rectangles and more vertical pieces—but they're so much easier to solve.
I'm completely lost when I begin a painting, so I like to create problems. When you paint, you're putting yourself out there; you're letting yourself be in a sheer panic, and then being vulnerable. I hate to start from scratch. So I'm always setting up puzzles for myself. My grandfather used to make 3-D puzzles—he'd carve them out of wood—and I loved to solve them. I try to do that for myself with my art.